WJ9406 Latest Beautiful Girl
Product Detail
Product Tags
Weijun Toys designs and manufactures a wide variety of plastic figurines,  All of Weijun's designs are based on different topics such as beauties, animals...PVC beautiful girl Figure Collection are one of Weijun's mixed figures. The design of this PVC beauty Figure Collection does not blindly pursue realism, but develops in the direction of cartoon cuteness. So kids are easier to accept and like it.The raw materials we only use to make these collection are 100% safe and environmental friendly plastic, such as PVC, ABS, PP, and we also have SGS certification.
As know beautiful girl is very popular and easy to catch girls eyes, which it looks adorable and fantastic. Every girl want to be more beautiful and keep strong passion for it. Every little girl has a princess dream in their heart, hoping to be the most beautiful girl. The beauty figure collection is designed with modern popular fashion factor, which combined the girl's childlike innocence character with attractive appearance. Every girl is unique in the world no matter what you look like.
The designer hope every girl can become the ideal appearance in their heart and turn to be your own princess. To be yourself and stay true, Try to live the way you want to live.
PVC beautiful girl is a type of collectible figurine that have become increasingly popular among fans of anime and pop culture. These figurines are typically designed to resemble beautiful, anime-style girls in various costumes and poses. One of the key features that make PVC beauties so appealing is their high-quality PVC material, which not only ensures that they are durable and long-lasting but also gives them a bright and vivid appearance. There are total 6 collections with different designs, size is around 7-8cm, which is easy to collect and display.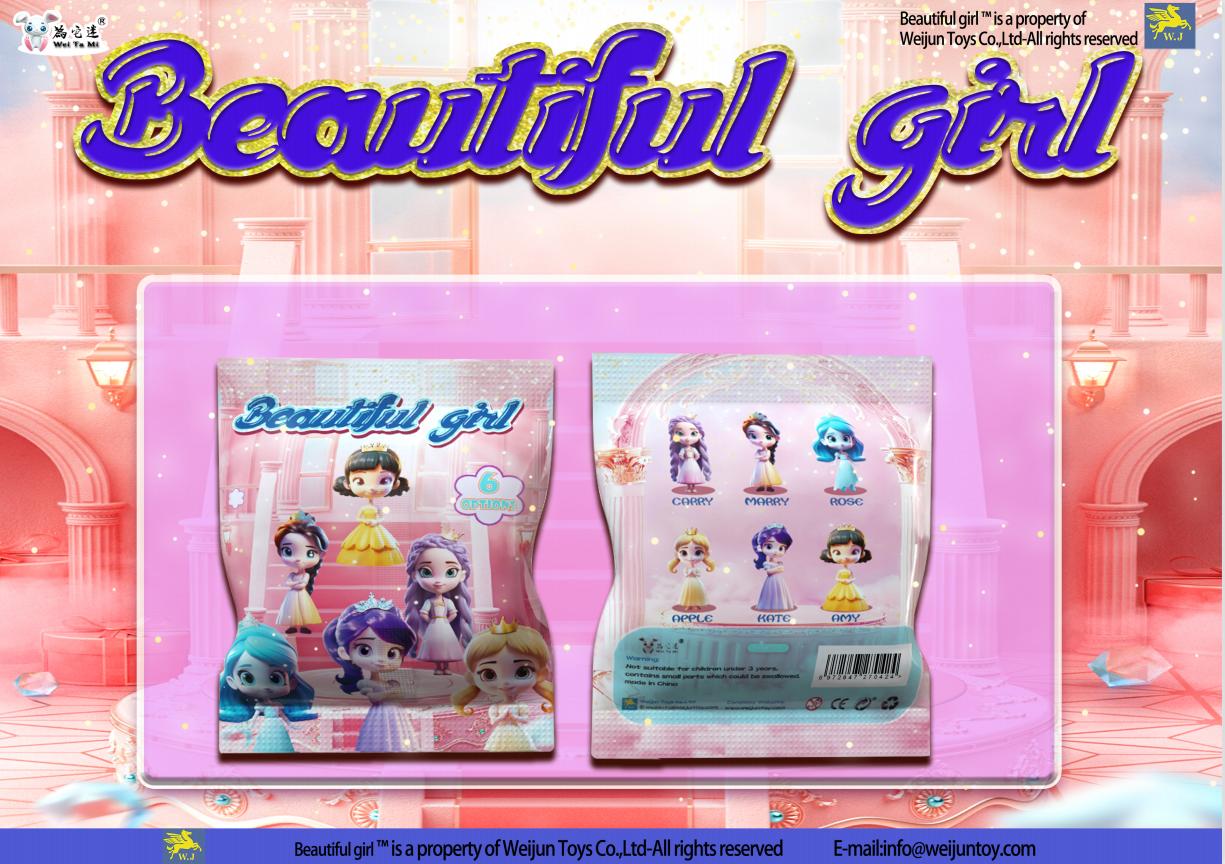 1. Eco-friendly Toys
2. Solid PVC makes it resistant and durable to display
3. Appropriate size easy for collect
4. 6 different designs for more option
5. Ideal for gift for girls or collectable figure
Item Name

PVC

Beautiful Girl

Model No.
WJ

9406

Material
100% safe and eco-friendly plastic
Place of Origin
Guangdong, China
Brand Name

Weitami

Size

7cm

Per Collection

6

 Designs to Collect
Age Range
Age 3 and Up
Color

Mixed

MOQ.
100,000 pcs
OEM/ODM
Acceptble
Packing

Foil

 bag or Custom
---
---
Write your message here and send it to us