by Maya Jade Sales ▏Maya@weijuntoy.com ▏25 Aug 2022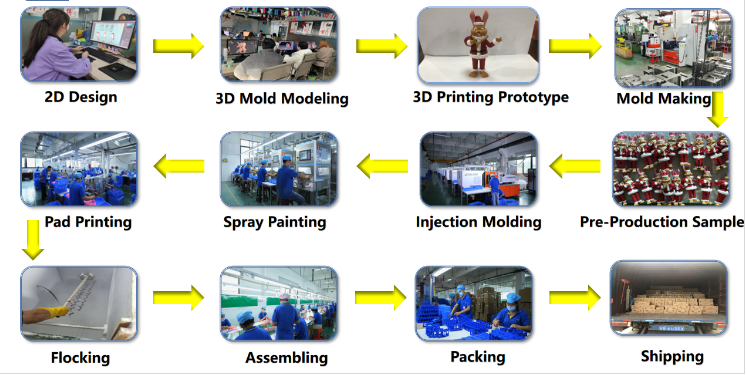 How much cost if we want to make our own Figure at Wei Jun toy factory?
As you might aware, many company develop their own mascot or blind box for branding and marketing,also many deisgns lauch their own figure toy and sells very remarkbly.
Step 1:  Share your idea of what you wanna do( One refer pic or 3D files ), quantity, packing method.
You can tell us about your idea, what you wanna make? Is it a carton figure? Or Anime figure? The image will be a human being or some kind of animal? Send us the image you can find as close as to your ideal objects, and our sales will be love to assit you. Once the content have been confrimed, some clients have their own designs which can built 3D models for them, somes don't
Step 2: (taking about 3-7 days):
We have designer team which can help you making 3D modeling, If you can provide 3D files then we can cut this step.
Step 3(taking about 7-15 days):
Printing the 3D modeling to prototype, Well, different material and project price differs. cost from 300USD to thousands according to how difficult it is. Usually we use resin for printing prototype, but sometimes we need TPR, PU… It will according to the proejct or clients requirement. Once we finished the figure prototype, we can make packing sample, $300 per pcm ususally.
Step 4(taking about 30-45days):
Confirm the prototype is what you want then we will open molds according to it. Per Mold $3,500-$4,500, how much mold will according to the 3d file. Sometimes one mold is not enough to achieve the shape we want. We charge PVC molds $3,000 and ABS molds $4,500 usually.
Step 5(taking about 35-60days):
will offer few pre-production samples for free then start mass production for final product and packing(we can customize).
Q&A
1.What is your MOQ for making my own design figure?
From WJ, it depends, we do 3000pcs for each design at least. Why it is so high? As you can see, we are factory not trade company, we make profit only when there is a certain amonut for order quantity. Also, the large the order quantity, the cheaper the unit price.
2.How goona I know if the final product is what I pursue?
From WJ, from every step, we will communicate and get confrimed from clients to start next step. We will confrim the shape before molding stage and confrim color before mass production. Once we finished the prototye, we will send to cilents and get signed by cilents. If the prototye need change some details, just let our sales know, we will carefully take notes and have meeting with production department, finding the best way to make the final products up to your expectation.
3.Can I have something special with my figure?
From WJ, we can do color change, glow in dark, glitter, and flocking, transparent technic. Or adding some scent to your figure make thems stand out. Also we have engineer help you to design.
---
Post time: Aug-30-2022